Liposuction Orlando, FL
Our doctors are members of the American Academy of Cosmetic Surgery and the American Society of Liposuction Surgery. Our central Florida practice focuses on liposuction and fat transfer procedures. 
Our Surgeons personally do every liposuction consult from start to finish. You will get to discuss your ideas and the best procedures for your particular case. You can also questions ranging from your ideal weight target, problem areas, and recovery time.
At Orlando Liposuction Specialty Clinic,  our  liposuction specialists, dedicate themselves to performing liposuction procedures day in and day out to keep "the hands" in top shape. Just like a concert pianist or a sculptor, a body contouring specialist requires complete dedication to his art form, his patient's well being.
What is Liposuction?
Traditional liposuction has been around since 1974.  Liposuction is a vacuum cleaner for fat.  With unparalleled safety and minimal discomfort, the surgeon uses a pump to suck out unwanted areas of fat. No more need for general anesthesia; this procedure is done under local anesthesia using a 3-4mm needle called a cannula and takes less than two hours per area. At Orlando Liposuction Specialty Clinic, we offer the latest Liposuction techniques – Lipo360, WaterLipo, Smart Lipo.
Lower Body Liposuction
Tummy Bulge A lot of women come to us for help repairing a post-pregnancy tummy. We help women resolve that tummy bulge and get their
pre-pregnancy body back. With modern lipo techniques, we can often even avoid the need for a tummy tuck!
Saddle Bags (Outer Thighs) Saddlebags are some of the most popular target areas for liposuction because the thick skin in this area tends to
tighten up well after the procedure. Women who use liposuction to get rid of saddlebags see dramatic, life-changing results.
Love Handles/Muffin Top Midsection fat is clingy. It doesn't respond to diet and exercises even when fat on the rest of the body is melting away.
Contouring this area of the body changes the appearance of the whole body.
Buttocks: We don't recommend solely removing fat from your butt. Instead, we recommend a complete BBL for a more shapely derrière!
FUPA The term FUPA (Fat Upper Pubic Area) is fatty tissue above the pubic bone. FUPA surgery became a meme when Beyoncé talked about her pregnancy
in Vogue's September issue that left her with a little FUPA. It is a genetic predisposition to having extra fat deposits in the lower belly for most people.
Using WaterLipo, a safe, proven, and gentle treatment, you can remove that bulge in your lower midsection in a cosmetic liposuction procedure performed under two hours.
Upper Body Liposuction
Bra-Bulge The bra-bulge is back-fat that rolls and pooches out around the bra. This stubborn fat in this area of the body is particularly resistant to
exercise and diet. 
Breasts A lot of women today get liposuction surgery as a breast-reduction strategy.
Upper Arm Liposuction After extreme weight loss and as women get older and upper arms can get flabby. Liposuction fixes this problem. Also, even young women who hate their profile when they have their arms down at their side are ecstatic after removing that bulge
What to do with the Fatty Deposits?
Fat Transfer Procedures are the techniques involved in repurposing your healthy fat cells and reinjecting them into areas you think could improve. They may be used to lift your butt or make your breasts fuller and rounder. These cosmetic surgery procedures are now routine, require little downtime, and are called body sculpting or body contouring. 
The most talked-about Body Contouring procedures are:
Brazilian Butt Lift, BBL for short. The procedure removes fat from your stomach, saddlebags, hips, calves. The fat is reinjected high up in your
buttocks to give you an eye-catching heart-shaped or bubble butt.
Fat Transfer Breast augmentation uses the same lipo procedure to augment your breast shape and evenness, giving you that high pole look that
looks awesome in a bikini or a décolleté.
Who is a good candidate for liposuction?
In the United States, liposuction is the most common cosmetic surgical procedure performed because it works, and the results are dramatic, particularly for the right patients. But are you a good candidate for liposuction?
The right patient has certain essential qualities. I look for patients who have realistic expectations about micro-liposuction and what it can do for them. This procedure isn't for everyone, but there are several things I look for in the ideal liposuction patient is:
18 years or more.
In Good health.
Measured with a maximum BMI of 30.
Does not smoke or fond of alcohol.
Disciplined about the after-surgery recommendations
If you meet the above requirements, chances are, liposuction surgery is a good fit for you, and you'll see good results from it.
Liposuction cannot take the place of weight loss. It will not get rid of cellulite. It will not replace a healthy lifestyle. Skin Elasticity varies with each individual and age.
Liposuction is a starting block to a new you. The rest is up to you!
What are the steps of the surgery?
The patient receives a mild sedative and can talk to the doctor during the whole procedure
The doctor starts by numbing a small area of the skin
Small incisions are made in the target areas of the body.
A special tumescent solution is injected into the tissues under the skin through the incisions. This tumescent solution numbs the fatty tissues
and makes it easier to remove.
Excess fat is suctioned out of the body through a tiny tube (known as a cannula) attached to a vacuum device.
The tumescent solution consists of a combination of:
Saline
Epinephrine to minimize bleeding
Lidocaine to numb the area
 We use the latest equipment available. Each plastic surgery procedure requires a set of specific instruments.
During a procedure, the primary target is excess fat located between the skin and the muscle tissue, but our secondary target is the skin. We use special techniques and instruments to enhance skin tone and elasticity in the target areas.
Tiny tubes suction the excess fat from the body, keeping the incision-size and scarring to a minimum
Recovery Instructions By Your Liposuction Orlando Surgeon
It is important to understand that liposuction is a surgical procedure and requires some downtime for recovery. When considering liposuction in Orlando, FL, it is important to know what to expect during recovery and how to properly care for yourself.
Immediately following your liposuction procedure, you will be given a compression garment to wear for a few weeks. This garment helps to reduce swelling and keep the area in place while it heals. You will also be given instructions on how to care for the area. This may include taking medication for pain and swelling, and avoiding strenuous activity for several weeks.
After the procedure, you should expect some swelling, bruising, and tenderness. This is normal and should subside over time. You may also experience numbness in the area, which is also normal. This should subside over time as well.
It is important to follow your doctor's instructions during your liposuction recovery. This includes taking any prescribed medications, avoiding strenuous activity, and keeping the area clean and dry. Additionally, you should avoid sun exposure and drinking alcohol for at least two weeks.
By following your doctor's instructions and taking care of yourself during your liposuction recovery, you can help ensure a successful outcome and a smoother recovery process. Liposuction in Orlando, FL can help you achieve the look you desire, and proper recovery is essential for the best results.
What can you do to make your Fat Transfer procedure a success?
Following a BBL, Please be aware that you should not sit on your buttocks for 7-10 days after the procedure so that the transferred fat will have the best chance to survive. There will be initial swelling, numbness, and some discomfort in the liposuction areas. Keeping your body weight off your treatment site allows your fat to find blood supply in its new area. You will be prescribed antibiotics and pain relief medicine to take after surgery, and you will need to take those as directed. Plan to eat a diet high in protein to help your body heal.  A nutrient-rich diet with plenty of vegetables, nuts, and grains will help your recovery.
Plan Ahead: You should expect to take 3-10 days off as a rule of thumb for your recovery. 
Keep your weight constant; avoid weight loss or gain. Weight fluctuations can affect your results
No smoking or alcohol until the fat settles
Stem fat cells will more easily generate blood vessels if they are not disturbed in their new location.
Drinking a minimum of eight glasses of water daily will also benefit your recovery.
You will also be encouraged to walk and do stretching to enhance the healing process.
You must wear the compression garments as required to achieve the best results and the fat to remain in place.
How much does a Liposuction in Orlando Cost?
Liposuction costs can vary greatly depending on the patient. We can explain this with 2 example cases.
An average size woman 5'2″ and 135 lbs. – (BMI 24.7). Who desires a slimmer abdomen can expect the following costs:
The price of liposuction in Orlando starts at $4,000 for only 1 area (Abdomen in this case)
Let's now add the mid-section (waist/hips); this is $1500 more
Now the subtotal is $5500
The pricing increases by $1,000 to $1,500 for every additional lipo area
Now let's analyze the case of a patient with a higher BMI – 5'7″ and 190 lbs – (BMI 29.8). This patient wants to have liposuction of her chin, inner/outer thighs, and abdomen.
The price breakdown would be the following:
Abdomen: $4,500
Inner Thighs: $1,800
Outer Thighs: $1,700
Chin: $1,200
Costs for liposuction depend on each patient's physique (the amount of fat to be extracted) and the number of body parts to be treated.
In general, liposuction of a larger area like the abdomen will cost more than liposuction of a smaller area, such as the chin.
Are financing plans available?
Absolutely! At Orlando Liposuction Specialty Clinic, we offer several different financing options to make it easier for our patients to afford all of the benefits of liposculpture.
Our clinic has strong relationships with reputable finance companies that regularly help our patients by offering advice and financial assistance. Nowadays, with so many financing companies, liposuction and other cosmetic procedures are accessible to almost anyone. 
Financing applications take only a few minutes to complete.
Liposuction in Orlando Florida
Our Doctors take a lot of pride in educating the public on the types of lipo available and what each one does. We are a dedicated lipo specialty clinic and therefore uses several different technologies for body enhancement. We prefer hand micro liposuction, smart lipo (laser liposuction), and ultrasonic-assisted liposuction.
It is VERY IMPORTANT to understand the following, however:
"We use many technologies and bells and whistles when we sculpt bodies, but we ALWAYS tell our patients upfront that none of that is significant. Meaning it is certainly NOT the machines that give patients an accurate, sculpted look, but instead, it is the surgeon. It is confusing to patients because there are so many ads with sexy names like Vaser lipo, high def lipo, ultrasonic lipo, smart lipo, tickle lipo, slim lipo, cool sculpting, liposonix, bodyjet, etc. I am not a fan of this method of advertising or exaggerating. We would hope that patients come to us because lipo is the only surgical procedure that we perform and therefore feel that we greatly improve their chance for optimal results."
Before and After Gallery
You can see fantastic lipo results by taking a look at our before and after gallery. Our patient's results are unsurpassed in Orlando and throughout the world!
* individual results may vary.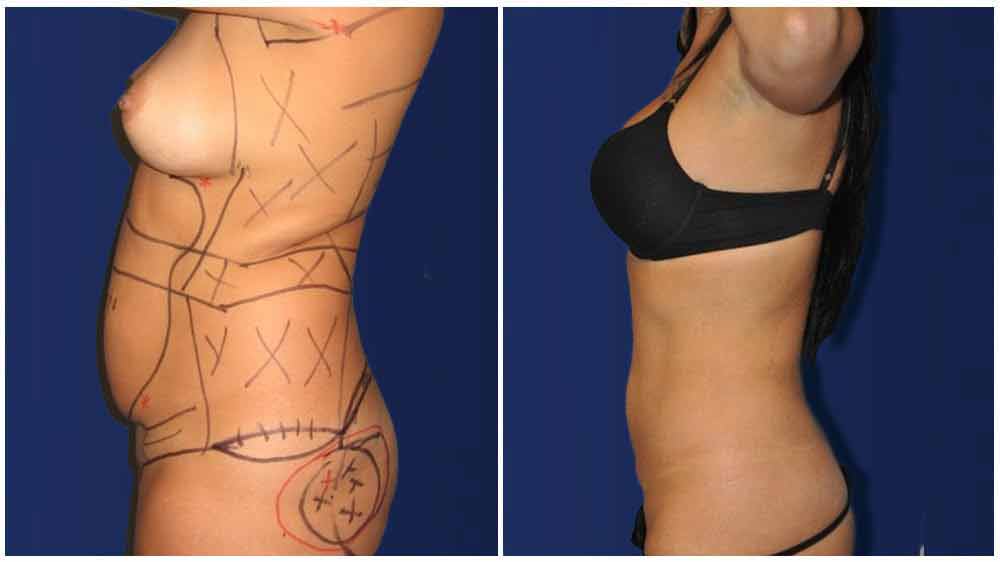 Improve The Way You Look And Feel
A refined body image and path to a newer you are possible through body contouring with SmartLipo, Laser Lipo, and Vaser liposuction. If a surgeon can truly deliver an improved figure, then imagine the emotional enhancements that go along with it. How you feel about yourself when you wake up in the morning and look in the mirror can greatly affect your overall mood and all the interpersonal relationships with those around you.